GDVA-405 Current Transformer and Power Transformer Tester, CT PT Analyzer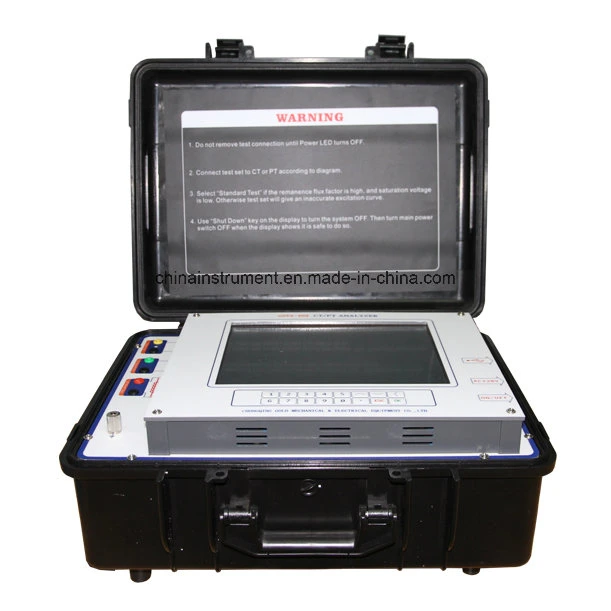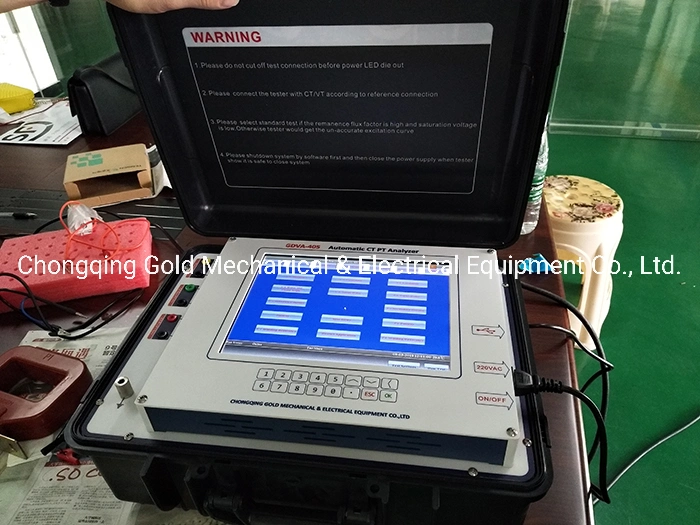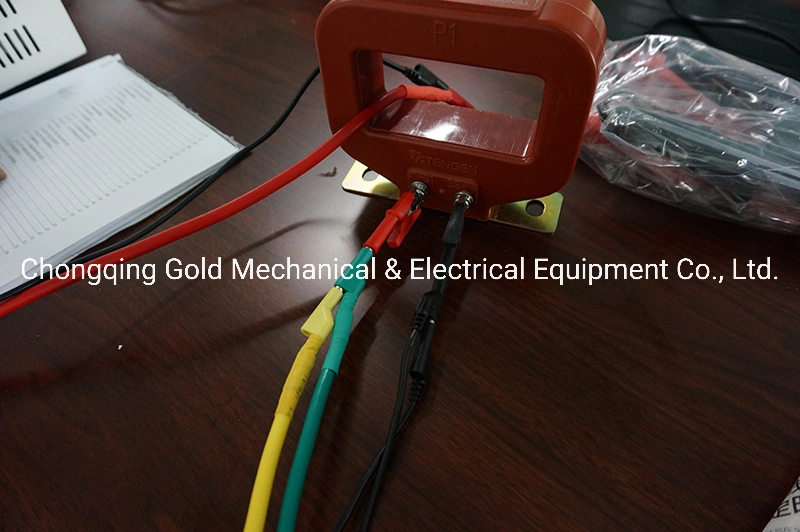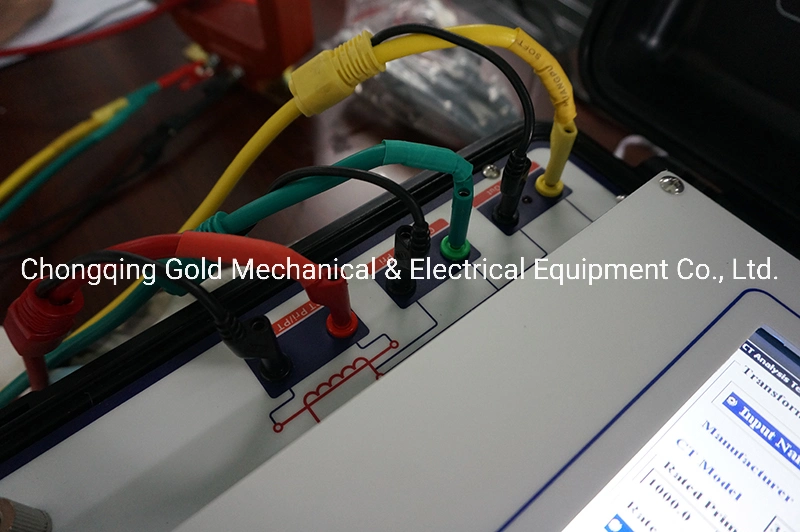 Tests for Current Transformer :
1. Excitation curve and parameters test
2. Turns ratio test
3. Ratio and phase error test
4. Polarity mark check
5. Winding resistance measurement
6. Secondary loop burden measurement
7. Error line curve test for protection CT
8. Transient CT parameters test
9. CT nameplate guess
10. Saturation hysteresis loop curve measurement

Tests for Potencial Transformer :
1. Turns ratio test
2. Ratio error and phase angle error test
3. Polarity test
4. Secondary burden test
5. Winding resistance test

Applications of CT/ PT Analyzer:
1. CT nameplate check
2. CT parameters check in work burden
3. CT transient parameters analysis
4. CT ratio and phase error calibration
5. PT routine test
GDVA-405 CT PT Analyzer

1

Test standards

IEC60044-1, IEC60044-6, GB1208, GB16847, C57.13

2

Power supply

AC220V±10%,50Hz/60Hz±10%

3

Power output

0.1~125V (AC)

4

Current output

0.001~5A(RMS)

5

Power output

300VA

6

Max. knee voltage measurement

45kv

7

Current measurement range

0~10A (automatically change range in 0.1/0.4/2/10A)

8

Current measurement error

<±0.1%+0.01%FS

9

Voltage measurement range

0~200 V (automatically change range in 1V/10V/70V/200V)

10

Voltage measurement error

< ±0.1%+0.01%FS

11

Turns ratio measurement range

1~30000;
1~2000 error<0.05%; 2000~5000 error>0.1%; 5000~35000 error<0.2%

12

Phase measurement

error:±2min,resolution:0.01min

13

Coil resistance measurement

Range: 0~8kΩ(automatically change range in 2ohm /20ohm /80ohm/800ohm/8kohm)
Error< 0.2%RDG+0.02%FS Maximum resolution: 0.1mΩ

14

Temperature measurement

-50~100 Celsius degree, error<3 Celsius degree

15

CT Secondary burden

Range 0-160ohm (automatically change range in 2ohm/ 20ohm/80ohm/160ohm)
Error <0.2%RDG+0.02%FS Maximum resolution 0.001ohm

16

PT Secondary burden

Range 0-80kohm (automatically change range in 800ohm / 8kohm /80kohm)
Error <0.2%RDG+0.02%FS Maximum resolution: 0.1ohm

17

PT ratio measurement

Range: 1~30000, 1~5000 error<0.2% 5000~30000 error<0.5%

18

Saved data groups

>1000groups

19

Work condition

Temperature:-10ºC-50ºC, moist:≤90%

20

Size

70*50*41CM

21

Weight

40kg
More details for CT PT Analyzer:
About CT/PT Analyzer software: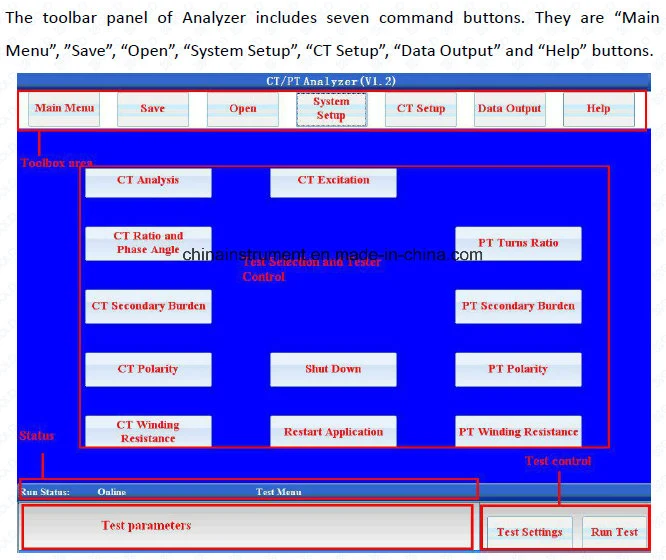 GDVA-405 Top-Rated Automatic Current Transformer and Potential Transformer CT PT Tester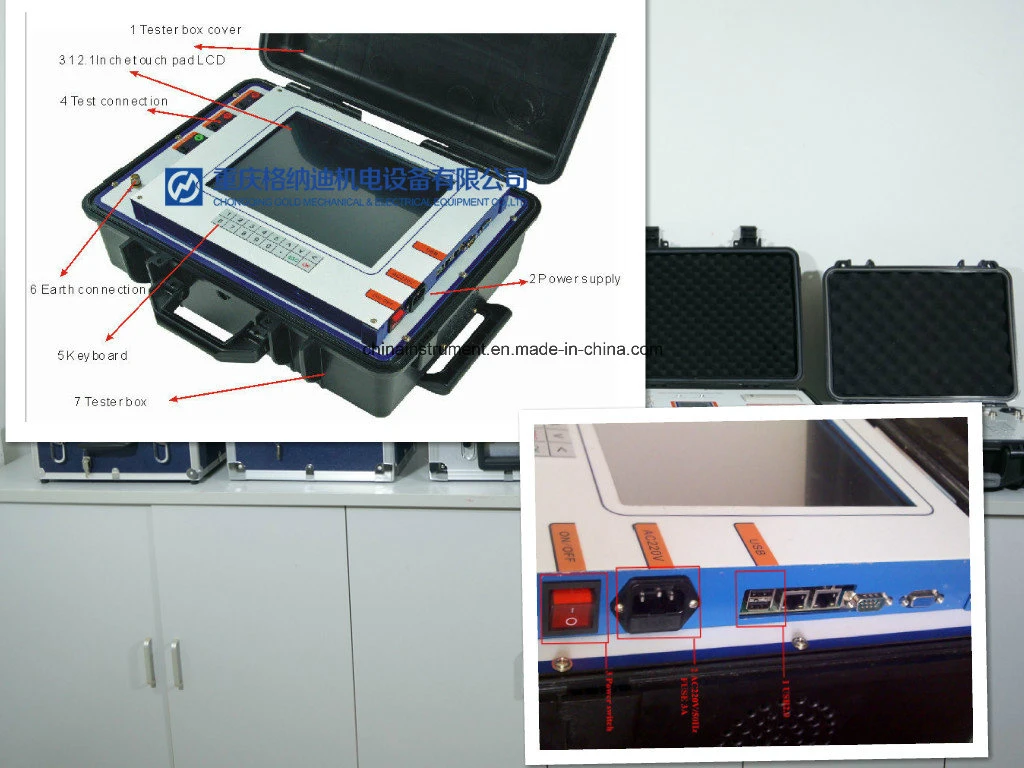 Standard configuration for CT/PT Analyzer:
Name

Quantity

Description

Host machine

1

3M mask cable

2

Test cable for power out and CT
secondary
connection

10M mask cable

1

Test cable for CT primary connection

Grounding cable

1

Big test pliers

2

One red and one black

Test gasket

4

Two red and two black

Test pin

4

Two red and two black

Test pliers

12

Three red and nine black

Short connection cable

1

Including six connection terminals

3A fuse

3

Power cable

1

Accessories bag

1

Production disk

1

Include Analysis application and user manual

User manual

2

Inspection report

1

Pass certificate

1
Order & Customer Feedback: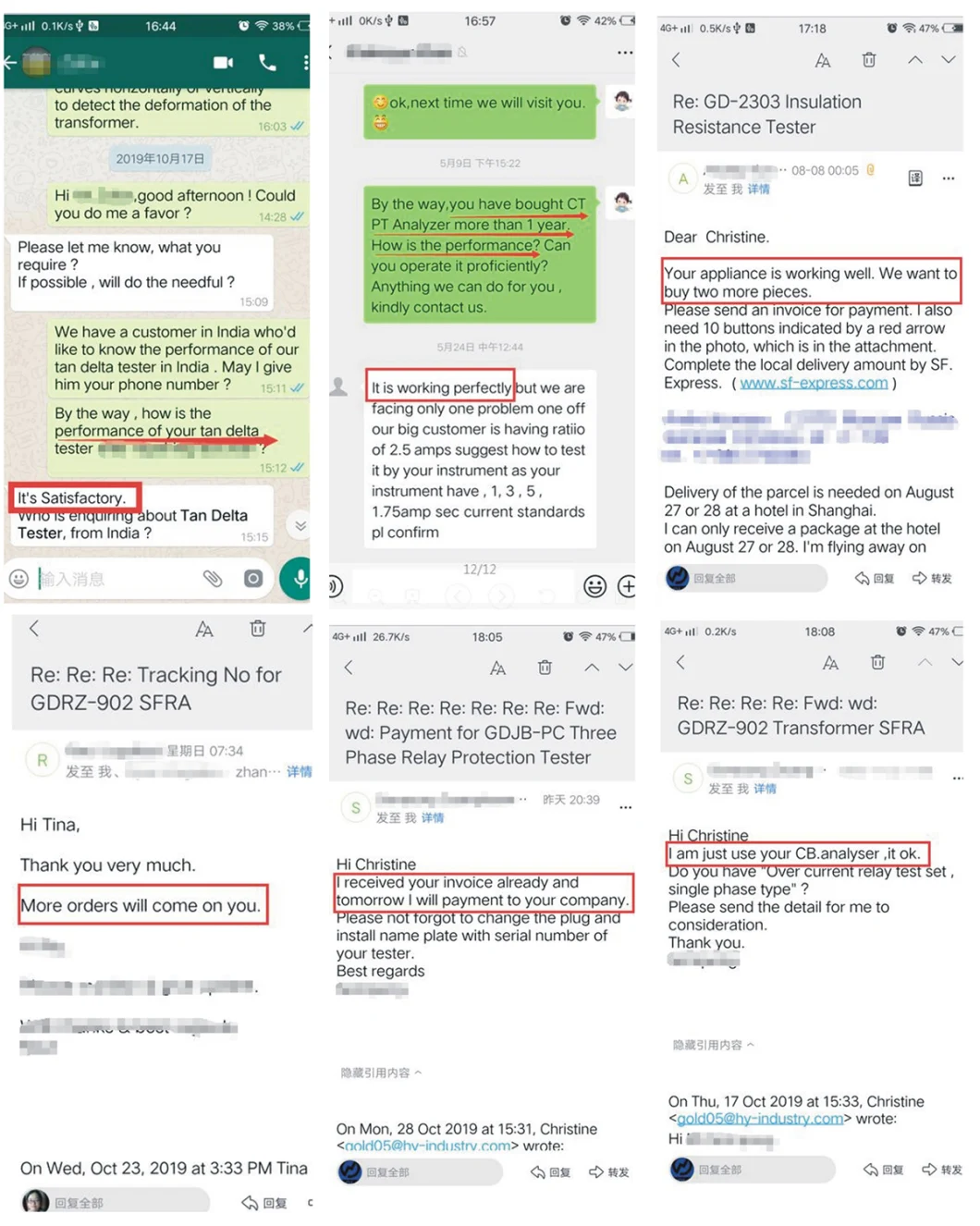 Our Company: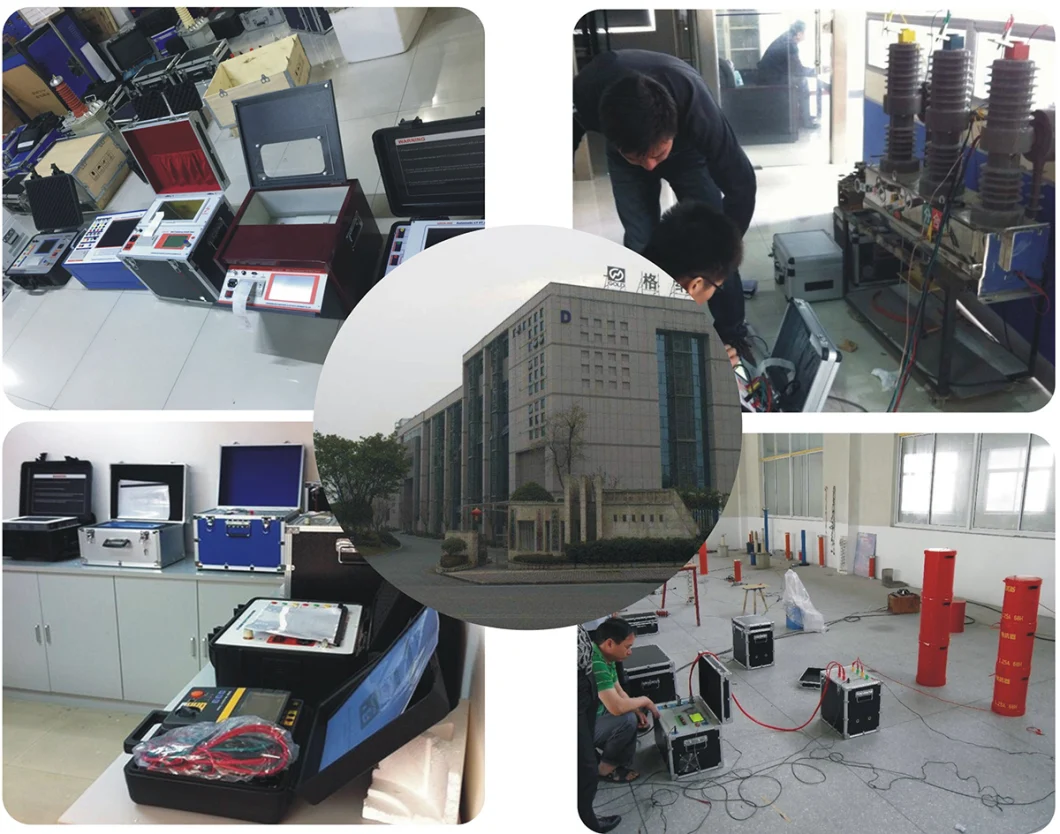 Chongqing Gold Mechanical&Electrical Equipment Co.,Ltd
is founded in 2008. We have a strong team including top sales, skilled engineers and we have our own manufacture with high quality. we mainly design and manufacture the Transformer Tester, Circuit Breaker Analyzer, CT PT Analyzer, Hipot Tester , Relay Tester and so on for more than 10 years.

After several years' development, our products have become high intelligent and wide coverage. And our company has become one of the leading manufacturer of oil purifier and electrical testing equipment in China;

We have developed sales channels in many countries such as UAE, Saudi Arabia, Iran, Malaysia, Thailand, Pakistan, India, Germany, Belgium, USA, Mexico, Kenya, Nigeria, South Africa and other countries worldwide.
And we have gained strong advantage and high reputation in international market.