High Voltage Circuit Breaker Test Instrument Touch Screen Hv Circuit Breaker Vibration Analyzer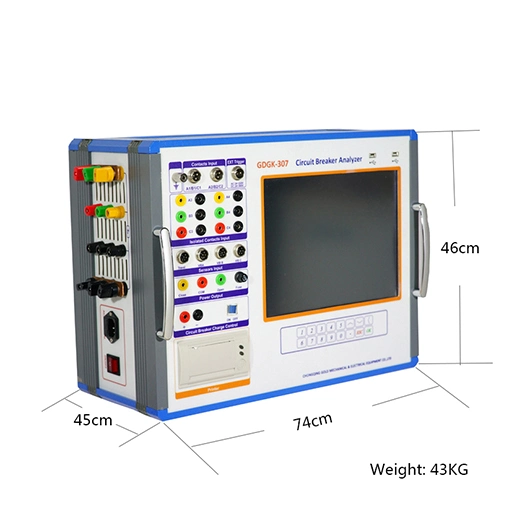 Introduction:
1. CB Circuit Breaker Time Trip Velocity Analyzer High Voltage Switch Circuit Breaker Characteristics Analyzer is used for testing, analyzing and assessing power system circuit breakers, mechanical characteristics of load switches and isolated switches and other AC high voltage switches, contact resistance, Arcing contacts and vibration characteristics etc.
2. The functions of Circuit Breaker Analyzer cover all testing items of high voltage circuit breaks.
Comparing with the traditional circuit breaker tester, this Circuit Breaker Analyzer has the following unique advantages:
1. The integrated vibration test function of Circuit Breaker Analyzer provides a new means of detection circuit breaker mechanical characteristics for users, compared to traditional time measurement and speed measurement, the vibration fingerprint detection is easier and more efficient.
2. The vibration fingerprint test results contain richer information of circuit breaker operation, for potential risk of failure or faulty breakers, it can locate the fault position quickly.
3. The vibration tests do not need to change the original line connection, so the users can complete the charged detection of mechanical characteristics of circuit breaker.
4. Arcing contact analysis module allows users to automatically assess the degree of loss of inside Arc suppression contact of circuit breaker without disassembly.
5. Users can use Circuit Breaker Analyzer to complete the contact resistance tests, do not need to buy contact resistance tester separately.
Features:
Measurement of closing time, opening time, time spread between poles, time spread between units of one pole, bounces etc.

Measurement of closing speed, opening speed and average speed.

Measurement of clearance between open contacts, over travel, overshoot travel and total travel.

Measurement of closing coil current time curve, opening coil current time curve and the maximum coil current

Test travel time curve, speed time curve and acceleration time curve

Measurement of pre-insertion resistance value and pre-insertion ion time.

Test contact resistance

Measurement of dynamic resistance time curve and length for arcing contacts

Vibration test, including vibration fingerprint curve acquisition, management, and vibration fingerprint curve automatic matching.

CO-t1-CO,O-t-CO-t1-CO,CO rated operating sequence verification test.

Drawing Envelopes for reference travel curve and compare travel curve with envelopes

Mechanical travel curve automatic compare with saved travel curve

Measurement of CO time (close-open time) and

ºC

time (Opening-Closing time)

Graphite contact closing time, opening time, dynamic resistance curve measurement

Zoom, editors, statistics and analysis for measurement curves.

12.1-inch touch screen for control and data input

Built-in micro printer for test result printout.

Generate WORD format test report automatically (all reports and data can be exported through Flash disk).
12 channels for time measurement

3-channel supports both the time contact and resistance contact time

6-channel isolated contacts for cascaded unit measurement of pole

Time measurement

Range: 4000ms

Error :< 0.1ms

Resolution: 0.01ms

Travel measurement according to sensor

Linear resistance sensor:
Measurement range: 0~250mm; resolution: 0.01mm; error: <0.5mm
Measurement range: 0~25mm; resolution: 0.01mm; error: <0.05mm
Angle resistance sensor:
Measurement range: 0~360°; resolution: 0.01°; error: <0.5°

Pre-insertion Resistance Measurement

Range: 50~5000ohm; error :<1%RDG+2D

Dynamic resistance measurement

Test current: 25~100A

Measurement error :< 1%RDG+2D

Contact resistance measurement

Range:0--10mohm ; Error <0.5%RDG+0.05%FS

Range: 0-2mohm; Error: <0.5%RDG+2D

Speed measurement

250mm linear resistance scale: 0~20m/s; error:<0.5%RDG+2D

25mm linear resistance scale: 0~20m/s; error: <0.5%RDG+2D

Angle sensor: 0~20m/s; error: <0.5%RDG+2D

Acceleration sensor: 0~20m/s; error: <5%RDG+2D

Coil current measurement

Range: 0~20A; resolution: 0.001A; error: <0.01A

Vibration measurement

Range: 0~5000G; error: <3%

Internal DC power source

Voltage: 12~265V; current:0~20A

Data Save

Built-in 8G storage memory and 2 USB interface for data export and external keyboard or mouse connection

Power supply

AC220V±10%; 50Hz±10%

Working environment

Temperature: -10~50°C; Humidity: <80%
GDGK-307 Circuit Breaker Analyzer Worked in UAE: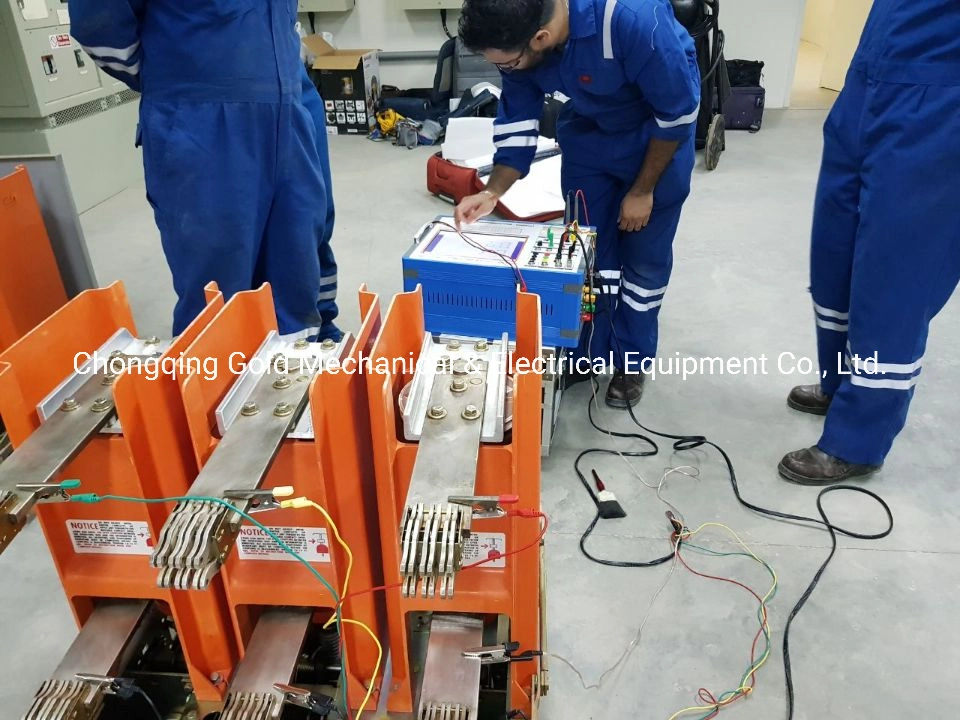 GDGK-307 Circuit Breaker Analyzer worked in Thailand: