Tan Delta and Capacitance Tester
Model: TDC3100

Description
Tan Delta and Capacitance Tester TDC3100 is fully automatic 12 kV insulation power factor/dissipation factor (tan∂) est set designed for evaluating the nature and quality of electrical insulation materials and high voltage systems such as transformers, bushings, circuit breakers, cables and windings of rotating machines etc..
In addition to performing insulation power factor tests, TDC3100 is capable of testing capacitances of up to 60 nF at 12 kV.
As part of a routine maintenance program, capacitance and dissipation factor testing can aid in predicting potential failure of deteriorating insulation. By measuring dissipation factor of the specimen plus capacitance, undesirable conditions are found. They include conditions caused by moisture on or in the insulation, shorts or opens in windings or insulation, and conductive contaminants in insulating oil, gas or solid materials.
Tan Delta and Capacitance Tester TDC3100 includes interference suppression circuits that assure accurate measurements even under severe interference or noise conditions.
Measurements of TDC3100 include voltage, current, power, tan delta, power factor, capacitance and CVT ratio. The test results can be automatically stored into instrument, and can also be downloaded directly to USB storage or printed out via built-in thermal printer.
Tan Delta and Capacitance Tester TDC3100 is 22.8kg(50.27 lb), which makes it easy to transport to the testing locations. The touch screen on the panel of TDC3100 makes the operation easier and faster. Automatic balancing of dissipation factor significantly reduces the required testing time and provides high resolution.

Main Features
Test

s

tandard:IEC60247

S

electable

test mode:

UST

,

GST

,

GST

g

1

2 kV insulation power factor/dissipation factor (tan∂)

measurement

C

apacitance

measurement

up to 60 nF at 12 kV

CVT

r

atio

t

est

available

(suitable for CVT with accuracy class 1.0 or 3.0)

Interference suppression circuits for

testing

under severe interference or noise conditions

Touch screen for easy and quick operation

Built-in thermal printer for printing out test results directly

Application
TDC3100 is used for testing high-voltage electrical insulation systems at the variable frequency by applying test voltages up to 12 kV.
Power transformers Distribution transformers
Instrument transformers Circuit breakers
Rotating machines Bushings
Cables Surge arrestors

Test Capability
Dissipation factor (tan∂) Power factor
Capacitance Power
Voltage Current
CVT ratio

Technical Data
Test Standard: IEC60247
Internal HV Output: 0.5~12kV
Output accuracy: ±(reading×1%)
Resolution: 100V
Maximum output current: 200mA
Capacity: 2000VA
Self-excitation Power Source: AC 0~50V/15A
Dissipation Factor(tgδ) Measurement
Measuring range: no limit
Accuracy: ±(reading×1%+0.040%)
Resolution: 0.001%
Capacitance (Cx) Measurement
Measuring range: 15pF < Cx < 300nF
Cx < 60nF @12kV
Cx < 150nF @5kV
Cx < 300nF @1kV
Cx <300nF for CVT test
Accuracy: ±(reading×1%+1.00pF)
Resolution: 0.001pF(4 valid digital)
CVT Ratio Test(suitable for CVT with accuracy class 1.0 or 3.0)
Measuring range: 10~10000
Accuracy: 1%
Frequency
Single frequency: 50Hz or 60Hz
Variable frequency: 45Hz/55Hz, 47.5Hz/52.5Hz, 55Hz/65Hz, 57.5Hz/62.5Hz
Built-in thermal printer for test results printing
USB interface for test results download storage
Data storage: 200 test results can be stored into tester
Power Supply: customized(AC 220V/230V/120V/127V±10%, 1-phase), 50Hz/60Hz
Environmental Condition
Storage temperature: -20ºC~60ºC
Operating temperature: -10ºC~50ºC
Humidity: <90%
Miscellaneous
Dimension of host: 350x270mx270mm(13.78x10.62x10.63 in.)
Weight of host: 22.8kg(50.27 lb)
Safety Qualifications and EMC
Safety: designed in accordance with IEC61010-1
EMC: light industrial IEC 61326

Tan Delta and Capacitance Tester TDC3100 is reliable test instrument for testing dissipation factor(tgδ), power factor(PF) and Capacitance(Cx) of transformer, circuit breaker, insulation bushing, rotating machines, cables, CVT etc..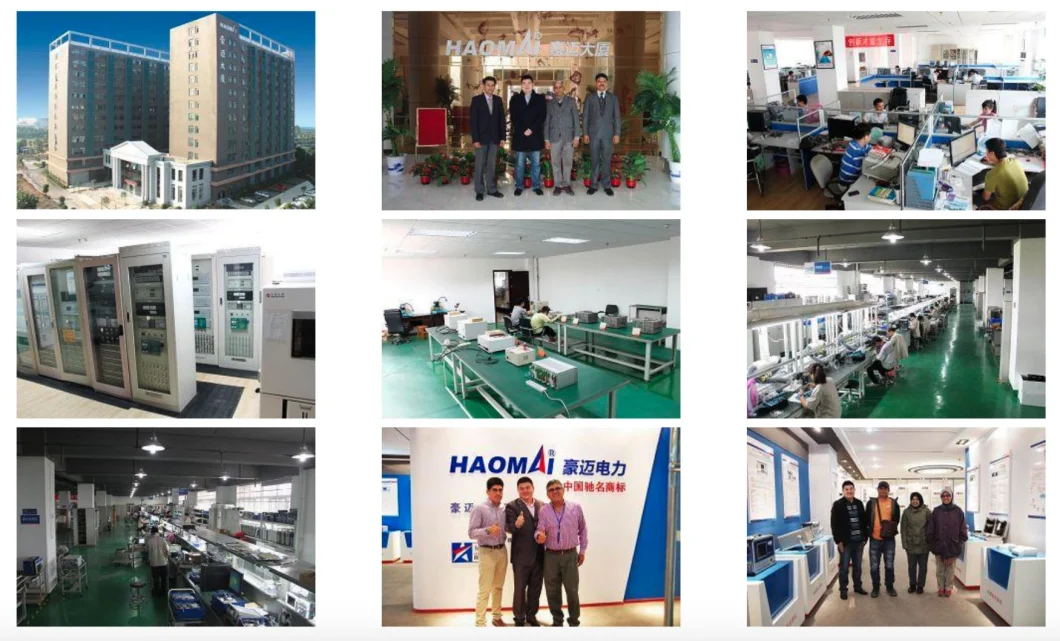 HAOMAI ELECTRIC POWER AUTOMATION is established in 1999 and located in Wuhan of China, which is specialized in developing and manufacturing electrical power test and measurement instruments. HAOMAI products are widely used in power grid, petrochemical, metallurgy, railway, coal mine, research institutes and all kinds of large-scale factories or enterprises.mainly focuses on the sales and services of Protection Relay Test System, CT/PT Analyzer, Battery Load Tester, Transformer Testing Equipment, Circuit Breaker Analyzer, Partial Discharge Detector etc. electrical power test and measurement instruments.

HAOMAI follows total quality criteria, and always maintains standardized process and procedures for continuous growth. HAOMAI has been certified by ISO 9001:2015, ISO 14001:2015 and OHSAS 18001:2007.

HAOMAI builds own RELAYSTAR laboratory and performance test laboratory, and possesses professional production equipment and testing instruments in factory, such as Agilent 34401A 6 1/2 High-precision Meter, FLUKE Multi-meter, EMH Standard Meter, CLOU Standard Power Source, Oscilloscope, Phase Meter, Insulation Test System, High Voltage Dividers, AC High Voltage Generator, Time Calibration Tester, Standard Micro-resistance etc.

HAOMAI is China well-known mark recognized and approved by State Administration for Industry & Commerce of People's Republic of China, and enjoys high reputation in domestic and foreign markets.

HAOMAI now is the key supplier for SGCC(State Grid Corporation of China) and CSG(China Southern Power Grid). Till 2018 HAOMAI products have been sold to 34 different countries.

HAOMAI always sticks to the faith of "cooperation and sharing", takes the "technology and market" as the direction, "creation and innovation" as the soul, listens to clients carefully, and improves the technology, upgrades the products, optimizes the service and tries all to be the global leader in electrical power test and measurement instruments field.