Optical Digital Relay Protection Test System For Smart Substation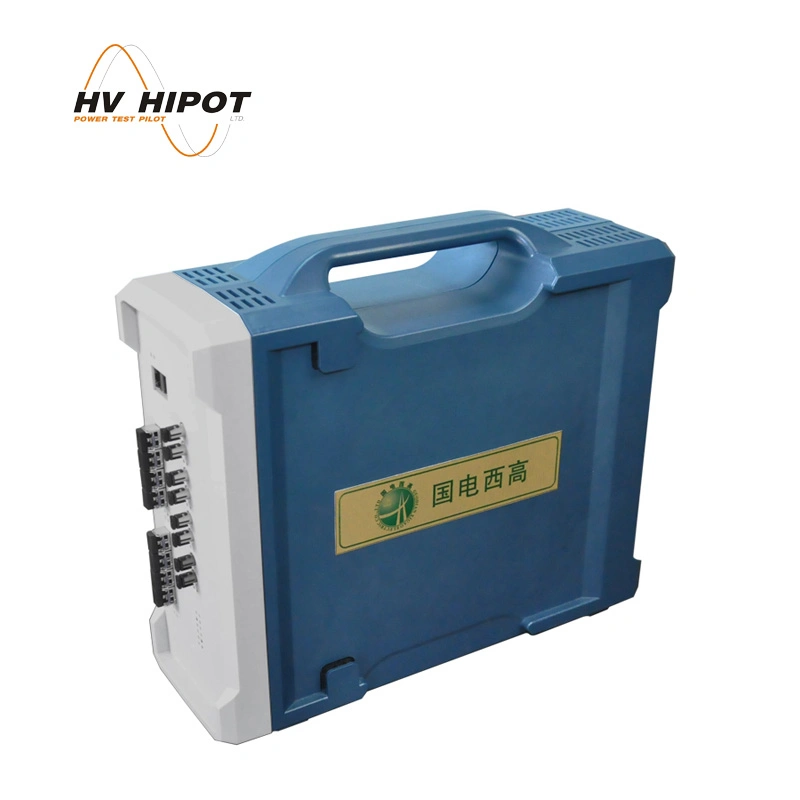 Product Description
GDJB-61850 Optical Digital Relay Protection Test System adopts embedded real time Embedded operating
system high performance Power PC, large scale FPGA and other technologies, combines with field condition
of the electric power and the experience from many power users, and then independently researched and
developed this new portable product. GDJB-61850 provides complete testing plan for digital protection &
automation device and instrument under IEC61850, IEC60044 standard protocol system, it is widely used in
smart substation, Electrical Power Research Institute, original equipment manufacture and other R&D
institution.
Features
Sending, receiving and powerful computational analysis ability of multiple messages.

Perfect engineering test management plan.

Special automatic test template.

Standard, open test model and interface.

Support for multiple cascading tests.
Specifications
Power supply

AC 220V, allowable variation: -20%~15%; frequency: 50Hz, allowable variation: -4%~2%; waveform: sine wave

DC 110V/220V, allowable variation: -20%~15%; ripple coefficient<5%;










Interface




Ethernet communication

Model: 10/100Base-Tx;

Port: 2 pcs;

Interface type: RJ45;




Fiber optic Ethernet

Model: 100Base-FX/1000Base-FX;

Port: 8 pair;

Interface type : LC;




FT3 optical fiber serial port

Adopted standard: IEC60044-7/8;

Port: 6pcs for sending,

1pcs for receiving;

Interface type : ST;

Synchronous interface

Interface type : ST;

Timing deviation: < ±1μs;




Cascading synchronization interface

Port: 1-way for B code,1-way for RS485




(adaptive master slave mode, can input, output);

Interface type: phoenix terminal;




Binary

output contact

Quantity: 4 pair;

Type: idle contact;

Output capacity: 250V(AC/DC)/0.5A;

Relay actuation time: < 3ms;






Binary input contact

Quantity: 8 pairs;

Type: 20~250V(DC) or idle contact;

Sampling frequency: 10kHz;

Time resolution: 100μs;

Anti-jitter time: 0~25ms;

Timing error: ±0.1ms(0.001s~1s),±0.01%(1s~1.5x105s);

Max.timing: 1.5x105s;

Analog small signal input

Channel:12;

Voltage range: ±10V;

Voltage accuracy: 0.1%;

Max.current: 1mA;

Allowable input frequency: sine signal 10~250Hz, transient signal DC~10.0kHz;

Frequency accuracy: 1mHz;

Frequency resolution: 0.001Hz;

Phase accuracy: < 0.1º;

Status indication: green light means there have signal output;

Interface type: phoenix terminal;

Analog small signal output

Channel:12;

Voltage range: ±10V;

Voltage accuracy: 0.1%;

Max.current: 1mA;

Allowable input frequency: sine signal 10~250Hz, transient signal DC~10.0kHz;

Frequency accuracy: 0.002%(1mHz under power frequency);

Frequency resolution: 0.001Hz;

Phase: phase angle range 0~359.9º, accuracy < 0.1º, resolution ±0.01º(50/60Hz);

Interface type: phoenix terminal;

Size

(W×H×D): 256mm×182mm×365mm;

Weight

5kg;