GF3031 120A 600V variable portable three phase electrical power calibrator for energy meter manufacturer
The GF3031 is a powerful and portable three phase current and voltage source. All test values are generated absolutely synthetically with a high degree of accuracy and stability. The source is available in 12 A, 24A or 120 A.
The GF3031 three phase portable power source is a lightweight and portable current and voltage source based on newest technology and serves for solving this problem by simulating the required load conditions. Operation is performed by integrated 7" touch screen or via keyboards.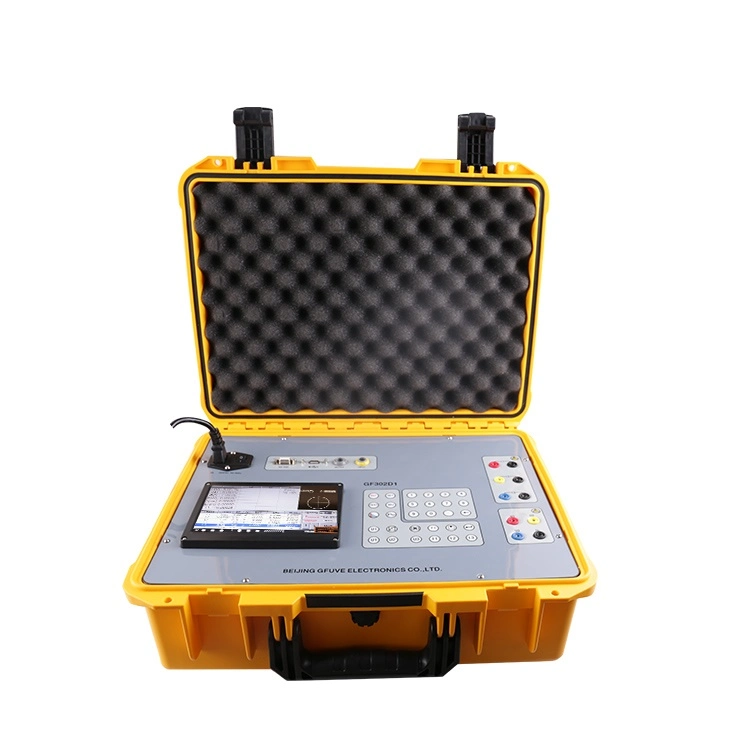 The GF3031 will supply pure sinusoidal voltage to 600 V and current to 120 Amps. Up to 200 VA's of power are available from the voltage terminals to support instruments which draw power from the line on which they are measuring, or where the voltage circuits of several devices are connected in parallel. Up to 1 V peak compliance is available from the current output to ensure current is delivered in setups involving long cable runs, connectors and switches, or where the current circuits of multiple instruments are connected in series. The current output is also able to produce an auxiliary voltage in order to simulate signals that may be produced by transducers or current probes. Higher ac current outputs are available from the 100A and 200A options.
FEATURES
Accuracy class 0.05 or 0.1
Three phase current generation up to 120 A (AC)
Three phase voltage generation up to 500 V
All test values are generated synthetically
7 inch TFT touch LCD
With USB or RS232
Weight light 15Kg
Overload, short circuit, open circuit protection
PARAMETERS
Electrical parameters
Accuracy class
0.05%, 0.1%
Power supply
Single phase AC 100-265 V, frequency 50/60 Hz
AC Voltage output
Range (U1, U2, U3 phase)
57.7V, 100V, 220V, 380V(Max 500V); range switch automatically
Adjust fineness
0.01% RG
Accuracy
0.05% RG
Stability
<0.01% RG/120s
Distortion degree
<0.3% (not capacitive load)
Output power
30VA
Full load regulation rate
0.01% RG
Full load regulation time
Less than 1mS
Long-term stability
± 60 PPM/year
AC Current output
Range (I1, I2, I3 phase)
0.2A, 1A, 5A, 20A, 100A(Max 120A); range switch automatically
Adjustment range
(0-120)%RG
Adjustment fineness
0.01%RG
Accuracy
0.05% RG
Stability
<0.01% RG/120s
Distortion degree
<0.3% (not capacitive load)
Output power
20VA(20A), 50VA(100A)
Full load regulation rate
0.01% RG
Full load regulation time
Less than 1mS
Long-term stability
± 60 PPM/year
Power output
Accuracy
0.05% RG
Stability
0.01% RG/120s
Phase angle
Adjusting range
0°-359.99°
Resolution
0.001°
Accuracy
0.03°
Power factor
Adjusting range
-1 ~ 0 ~ +1
Resolution
0.0001
Accuracy
0.0005
Frequency
Adjustment range
40-70Hz
Resolution
0.001Hz
Accuracy
0.005Hz
Temperature drift
± 0.5 PPM/°C
Long-term stability
± 4 PPM/year
Voltage/Current/Harmonic Setting
Harmonic number
2-51times
Harmonic content
0-40%
Harmonic phase
0-359.99
Harmonic setting accuracy
(10%±0.1%)RD(2)
Mechanical parameters
Dimensions (W×D×H) (mm)
495x390x195
Weight (kg)
15
Environmental conditions
Working temperature
0°C to 50°C
Storage condition
-30°C to -60°C
Relative humidity
≤ 85%
SELECTION GUIDE
| No. | Accuracy | Voltage range | Current range | Weight |
| --- | --- | --- | --- | --- |
| 30311201 | 0.10% | 0-500V | 0-12A | 15KG |
| 303112005 | 0.05% | 0-500V | 0-12A | 15KG |
| 30312401 | 0.10% | 0-500V | 0-24A | 16KG |
| 303124005 | 0.05% | 0-500V | 0-24A | 16KG |
| 303112001 | 0.10% | 0-500V | 0-120A | 22KG |
| 3031120005 | 0.05% | 0-500V | 0-120A | 22KG |
http://guangfuhui.en.made-in-china.com