Power System High Voltage Circuit Breaker Analyzer GDKC-15A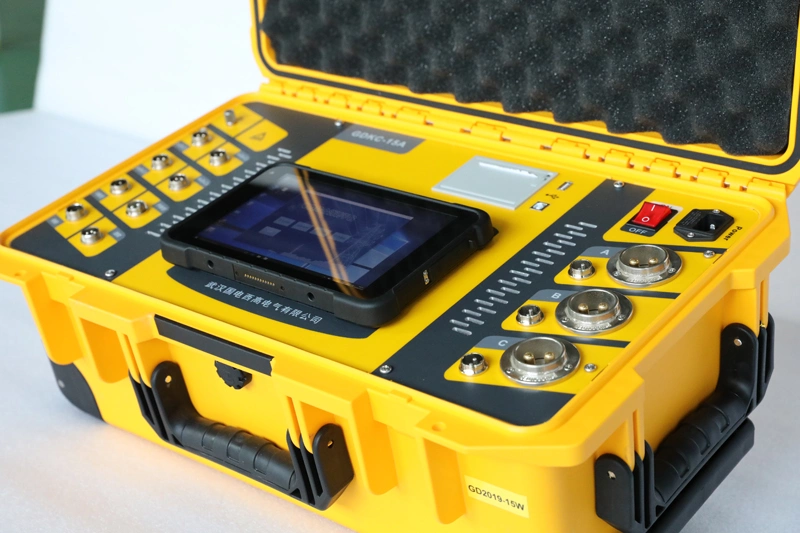 Product Description
High voltage circuit breaker is one of the most important control equipment in the power system. GDKC-15A is used to test the dynamic characteristics of high voltage circuit breaker. It is easy to operate, with high accuracy.

Features
Embedded industrial control computer. The main board is based on the CortexTM-A8, the main frequency is 1GHz and the flash memory is 1GB. The booting speed is only 16 seconds. 8.4-inch color screen,

windows operating system, intuitive user-friendly interface, touch screen, support for Chinese and English input, easy to operate.

High-speed thermal printers facilitate field printing of test data.

Internal integrated power supply, no need for on-site secondary power supply, easy to use. Can provide DC10 ~ 260V adjustable power supply, current is 20A. Arbitrarily set the action voltage of the opening and closing coils, and can be used for low-voltage action test of circuit breaker.

Equipped with a linear sensor, a rotation sensor, a universal sensor and a bracket, and a special fixed multifunctional joint, the installation is extremely convenient and simple.

Applicable to all models of domestic and foreign production of SF6 switches, GIS combination appliances, vacuum switches, oil switches.

Switch action once, get all the data and graphics

The host can store 30000 sets of field test data (extensible memory card), real-time clock inside the machine, easy to archive.

Equipped with U disk interface, can directly save the data to U disk, upload it to the computer for analysis and save.

Able to measure 12 metal contact and 3(6) double-end grounded switch at the same time.

Including enveloping line, through the numeric value of multi switch test (2-10) to generate standard enveloping line, carry out analysis and comparison, the analysis of switch vibration frequency can also be carried out.

Internal anti-interference circuit can meet the reliable use of 800KV substation.
12 contacts inherent open (close) time

Open (close) in phase different period

Open(close) phase-to-phase different period



C-O, O-C, C-O-C time,

One combined time, two combined time, short time, no current time value.



the bounce time of each contact, the number of bounces, the bounce process, the bounce waveform.

The amplitude of the rebound of each contact.



Speed: just open, just cloase speed, maximum speed, time-travel characteristic curve.




Travel: total travel, open distance, over travel, overshoot trip, rebound amplitude.




Current: The open and close current value and current waveform of open/close coils.




Operating voltage
DC0-300V/20A digital adjustable circuit breaker operating power supply is provided in the machine, and the power is automatically completed.

The low voltage operation test measures the operating voltage value of the circuit breaker.



Closing resistance: pre-cast time, pre-pitch waveform and resistance value of the closing resistor of 6contacts.




Dynamic resistance (Pre-insertion resistor): 100A change waveform of dynamic resistance during circuit breaker operation.



Specifications
Usage Environment




Input Power: 220V±10%, 50Hz±10%, Air Pressure: 86-106kpa




Temperature: -10-40

ºC

Humidity: ≤80%RH




Safety

P

erformance




I

nsulation

R

esistance

>2MΩ




Dielectric Strength

:

Shell

can withstand power

frequency

voltage 1.5kV at

1 minute

without

flashover and arcing.




The

B

asic

P

arameters
Time:

R

ange

20000.0ms,

resolution

0.01ms




Error

0.

0

1ms ±

2digit within 20

0ms




0.1

ms

±

2digit within 2000ms




1ms±2 digit within 20000ms




Closing resistance: range 10kΩ, min. resolution 1Ω




Velocity

:

Range

20.00m/s resolution 0.01m

/s




Error

±0.1m/s± 1digit within 0-2m/s




±0.2m/s± 1digit above 2m/s



Types

Range

R

esolution

Error

Vacuum breaker

50.0mm

0.1mm

0.1±1mm

SF6

circuit

breaker

300.0mm

1mm

Oil

circuit breaker

600.0mm
Current: range 20.00A, resolution 0.01A

Output power: DC 0-300V digital adjustable/20A (instantaneous working), resolution 1V.

Dimensions: about 570mm (L)* 400mm (W)* 240mm (H)

Weight: about 12kg