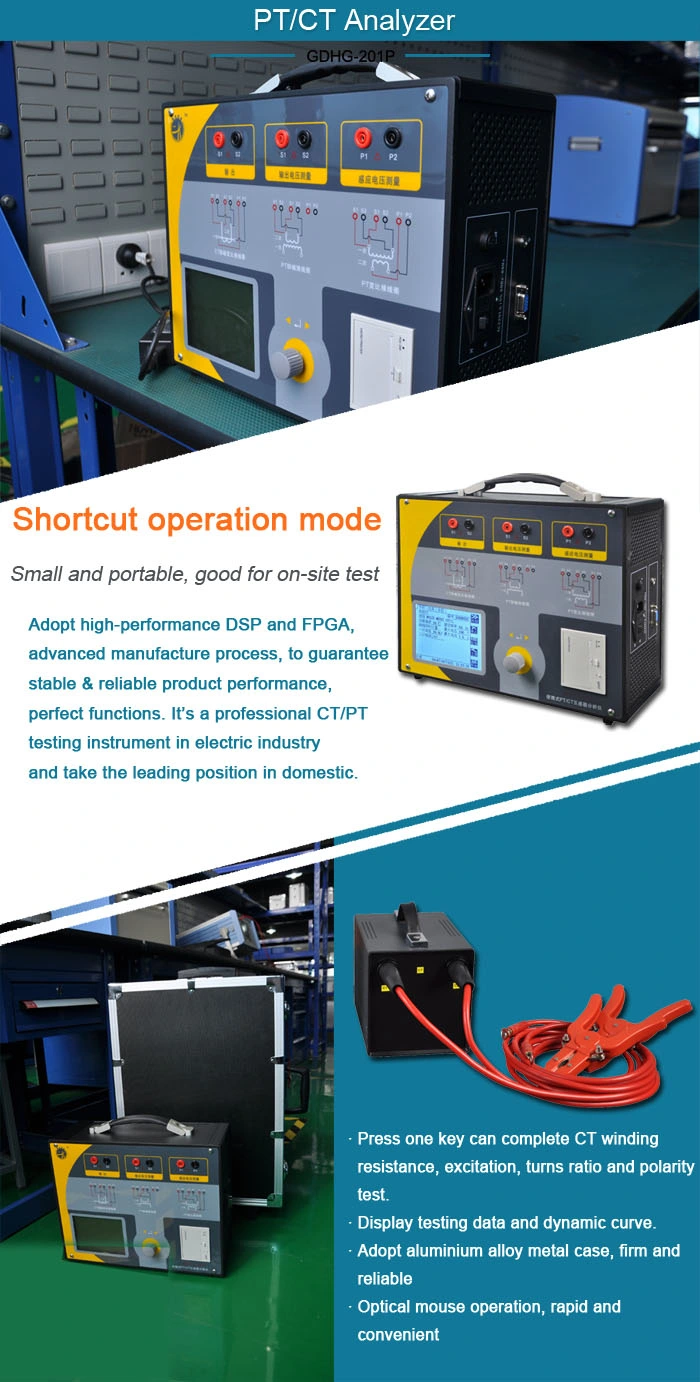 General introduction
GDHG-201P CT/PT Analyzer is designed for analyzing current transformers and voltage transformers of protection or measurement use, adopts high-performance DSP and FPGA, advanced manufacturing process to ensure stable and reliable product performance, complete functions, high degree of automation, high test efficiency, which is suitable for laboratory and on-site test.
Features
Full function and can satisfy all kinds of CT (protection CT, measuring CT, TP) test requirements, such as excitation characteristic test, turn ratio, polarity, secondary winding resistance, secondary burden, ratio error, angular difference and etc. Also can used to test excitation characteristic, turn ratio, polarity, secondary winding resistance, ratio error, angular difference and etc of all kinds of PT.

Field verification of CT does not require standard current transformers, current injector, load bank, voltage regulating controller and large current cables. Very simple test wiring and operation are used to realize the current transformer verification, which greatly reduces the work intensity and improves the work efficiency, and facilitates the field verification of transformers.

Accurately measure the ratio error and angular difference, the maximum allowable error of the ratio error is ±0.05%, and the maximum allowable error of the angular difference is ±2min. It can measure the 0.2S level current transformer, and the ratio measurement range is 1~40000.

Based on the advanced frequency conversion method to test CT/PT voltage-current characteristic curve and 10% error curve, the maximum AC voltage of 180V and AC current of 12Arms (36Apeak) can be output, but it can deal with the CT test of knee point up to 60KV.

Auto test CT/PT parameters such as knee point voltage/current, 5% and 10% error curve, accuracy limit factor (ALF), safety factor (FS), secondary time constants (Ts), magnetic remanence coefficient (Kr), saturated and unsaturated inductance.

The test meets various types of transformer standards such as GB1208 (IEC60044-1), GB16847 (IEC60044-6), and GB1207, and tests standards are automatically selected according to the type and level of the transformer.

The test is simple and convenient. CT DC resistance, excitation, ratio and polarity can be completed by one key. Besides burden test, all other tests of CT adopt the same wiring mode.

5.7-inch graphic transflective LCD, clearly visible in the sun.

Operated with a rotating optical mouse, the operation is simple, fast and convenient, and easy to master.

Built-in printer, automatically prints the generated test report.

The test results can be exported by U disk, and the program can be upgraded with U disk, which is convenient and quick.

Save 1000 groups data and it is not lost after power down.

It is equipped with background analysis software to facilitate the storage, conversion and analysis of test reports, and can be used for comparison, judgment and evaluation of test data.

Easy to carry, device weight <10 kg.
Specification
Main parameters
Model

GDHG-201P

Application

CT, PT

Output

0~180Vrms, 12Arms,36A(Peak Value)

Voltage Measuring Precision

±0.1%

CT Turns Ratio Test

Range

1~40000

Precision

±0.05%

PT Turns Ratio Test

Range

1~40000

Precision

±0.1%

Phase Test

Range

±2 min

Precision

0.5 min

Secondary winding resistance Test

Range

0~300Ω

Precision

0.2%±2mΩ

AC burden Test

Range

0~1000VA

Precision

0.2%±0.02VA

Input voltage

AC220V±10%, 50Hz

Working environment

Temperature:-10ºC~50ºC, Humidity: ≤90%

Dimension & Weight

365*290*153mm,10kg