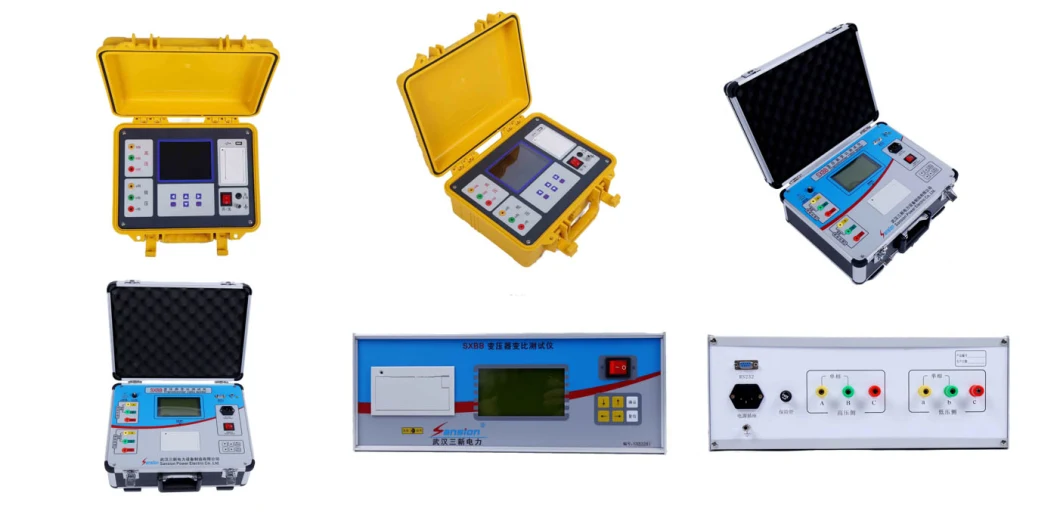 General information:
Transformer turns ratio test is very important in order to find out the transformer has the right ratio corresponding on its rated voltage in primary and secondary. SXTTR is single phase, automatically test set specially designed for turns ratio, phase shift and excitation current measurements of power, distribution and instrument transformer.
Features:
√ Auto measuring transformer connection groups.
√ Auto converting the group.
√ Auto switching phase sequence.
√ Auto switching measuring range.
√ Auto calibrating.
√ Auto calculateing relative error after input standard turns ratio.
√ Auto cut off test voltage after one test completed.
√ Data setting, final data saved automatically, historical data can be browsed.
√ When test load transformer, only need to input one turns ratio.
Specifications:
√ Power supply: AC 220V±10%, 50Hz±1;
√ Ratio span: 1-10000;
√ Display: Large LCD screen;
√ Accuracy: 1-999.99 0.2% 1000-9999.9 0.5 %;
√ Test voltage: H.V : AC 190V(Selectable); L.V.: AC 0.19V~190V (vary with ratio);
√ Operation condition: Ambient temperature -10~40ºC; Ambient humidity < 85% RH

Warranty: One year quality guarantee after shipment.

Please contact Sansion Power for further information
More information, please kindly contact with us, we can recommend the suitable test set according your requirements and give you the best quotation. Thank you!