HPU-3030B

Three-phase Portable Reference Standard is used for
testing various electronic inductive single/three-phase active,
reactive energy meter and all kinds of multi functional energy meters on site.

It is suitable for waveform and harmonics measurement of voltage and current and analyzing of power supply and utilization quality. In addition, it can also communicate wirelessly between PDA

via

Bluetooth

.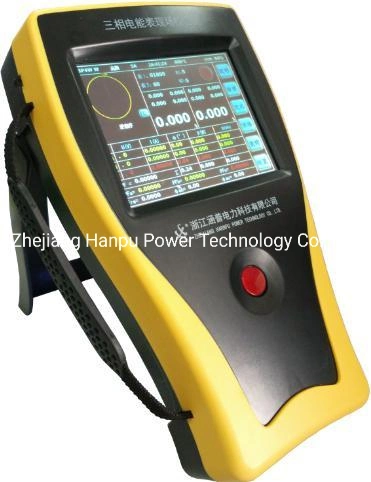 1.Traditional functions

1.1Wide voltage range 30V-480V, 5A clip-on CT and 0.1A~5A direct current

1.2Virtual value of AC voltage and current, phase and phase difference real-time on site measurement; Active, reactive and apparent power measurement per phase and sum of all phases, power factor and frequency measurement.

1.3Optional 100A ~1000A current clamper, together with 5A clamper for real load measurement of low-voltage energy meter and meter test s
ystems synthetic error, CT ratio measurement.

1.4Single/three-phase active or reactive energy meter testing.

1.5Voltage, current, waveform distortion and 2nd~31th harmonics measurement on site, harmonic histogram display, each phase waveform display and harmonics analysis.

1.6Quick detection of fault wiring of 3-phase
3-wire 48 improper wirings on site, indication of correct circuit.

1.7Standard pulse output, convenient for recalibration of the device, manual switch and pulse wire for electronic meter, convenient for testing on site.

2. Special functions

2.1 Main/sub energy meter comparison (patent technology)

2.2 Energy accumulation, energy meter registration test at site, register calibration

2.3 Communicate wirelessly between PDA via Bluetooth.

2.4 Variety of power supply mode with battery-powered, online to take power and external power supply, etc

2.5 Containing the SD Card of 4G capacity , it can store measurements of 100,000 Meters.

2.6 Barcode scanning, electronic scanning and infrared communication functions.
3. Specifications

3.1Accuracy: Class 0.1

3.2Voltage range : 30V~480V

3.3Current range: Direct input: 0.1~5A

3.4Clip-on 5A CT

3.5Frequency: 45Hz~65Hz

3.6Harmonic: 2nd~31st

3.7Frequency measurement: Resolution 0.0001Hz, error±0.001Hz

3.8Phase measurement: 0°~360°, resolution 0.01°, error 0.1°

3.9Input pulse: Max 1kHz(+5V level)

3.10Output pulse: 60 kHz (Rated voltage and current, PF1.0)

3.11Auxiliary power: 50V~480VAC

3.12Power consumption: 10VA

3.13Charging time: <5 hours. Discharge time:> 3 hours

3.14Dimension: 275mm(L) ×163mm(W) ×60mm(H)

3.15Weight: 1.5Kg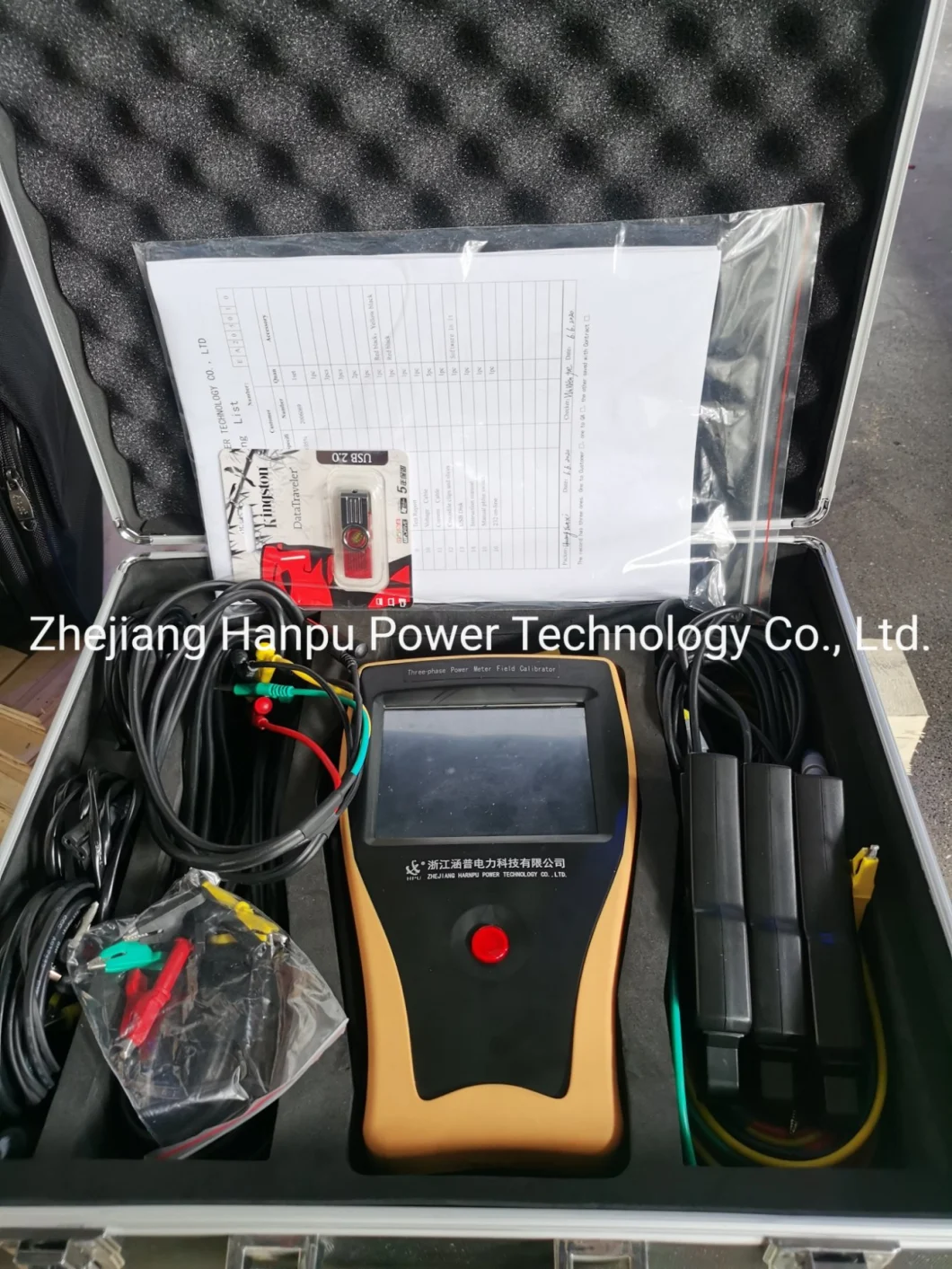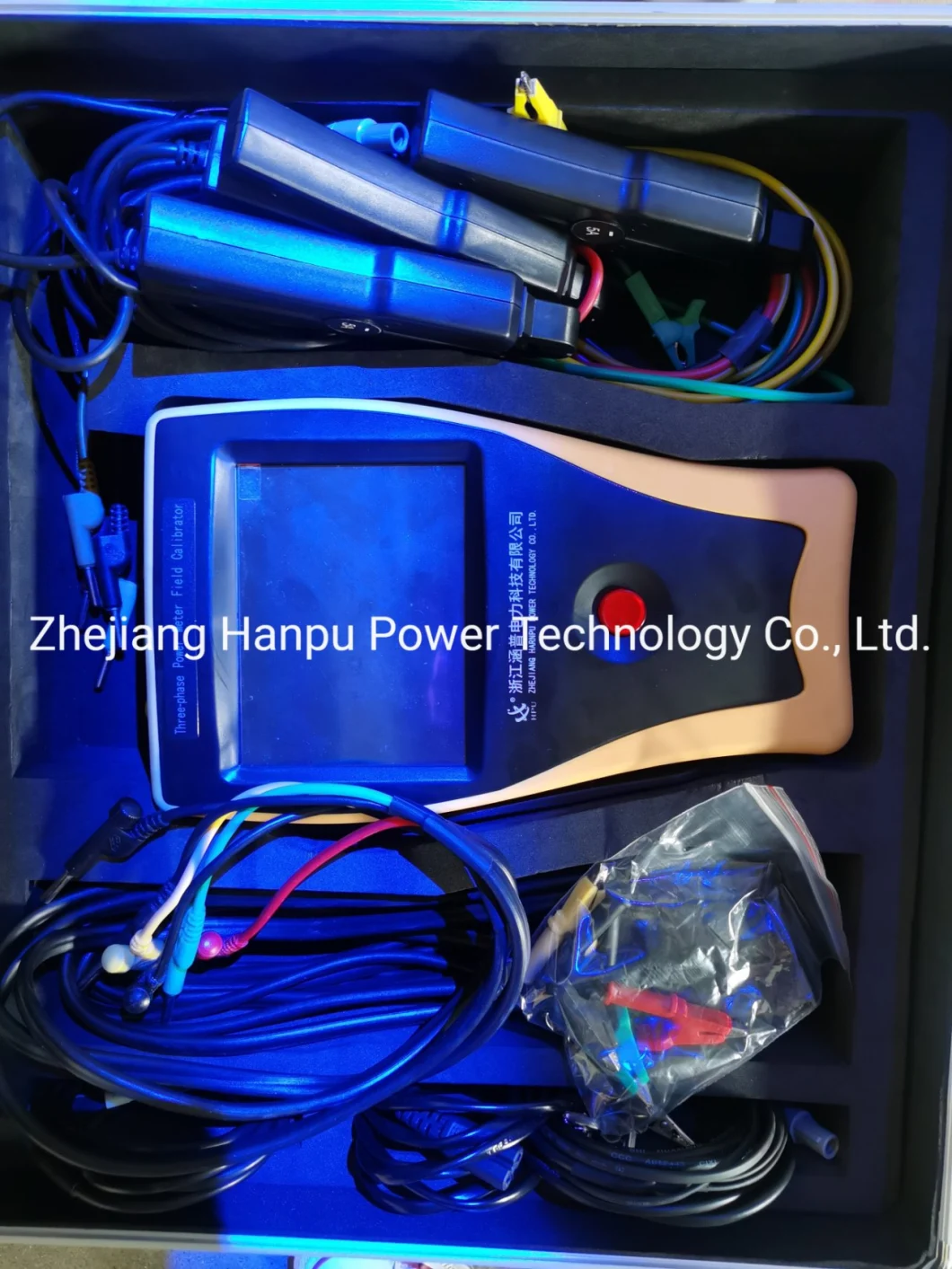 4. Other details