Transformer Winding Ohmmeter
Model: TWO-1100S

Main Features
1)Adopt 4-wire method for resistance measurement
2)DC test current up to 100 A maximum
3)User-selectable maximum current range
4)Resistance measurement from 50μΩ to 4Ω
5)Fast auto safety discharge circuit
6)Able to download test results via USB interface
7)Able to print the test results directly via built-in printer

Description
Transformer Winding Ohmmeter is designed to measure the dc resistance of all types of magnetic windings accurately. It can test transformers and rotating machine windings and perform low-current resistance measurement on connections, contacts and control circuits.

Technical Data
DC output range: 100A, 50A, 20A, 10A, 5A
Resistance measurement
50μΩ-100mΩ @ 100A
100μΩ-200mΩ @ 50A
200μΩ-800mΩ @ 20A
500μΩ-2Ω @ 10A
1mΩ-4Ω @ 5A
Measuring accuracy: ±0.2% reading ± 2μΩ
Resolution: 0.1μΩ
320×240 colour LCD screen for display
USB port for downloading results
Built-in printer for printing test results directly
Max. memory capacity: 1000 test results
Power supply: customized(AC220V/120V±10%, 50Hz/60Hz optional)
Dimension: 400x225x350mm(15.75x8.86x13.78 in)
Weight: 19.5kg(42.99 lb)
Environmental Conditions
storage temperature: -20ºC~60ºC
humidity: <90%
operating temperature: -10ºC~50ºC
Safety Qualifications and EMC
Safety: designed in accordance with IEC61010-1
EMC: light industrial IEC 61326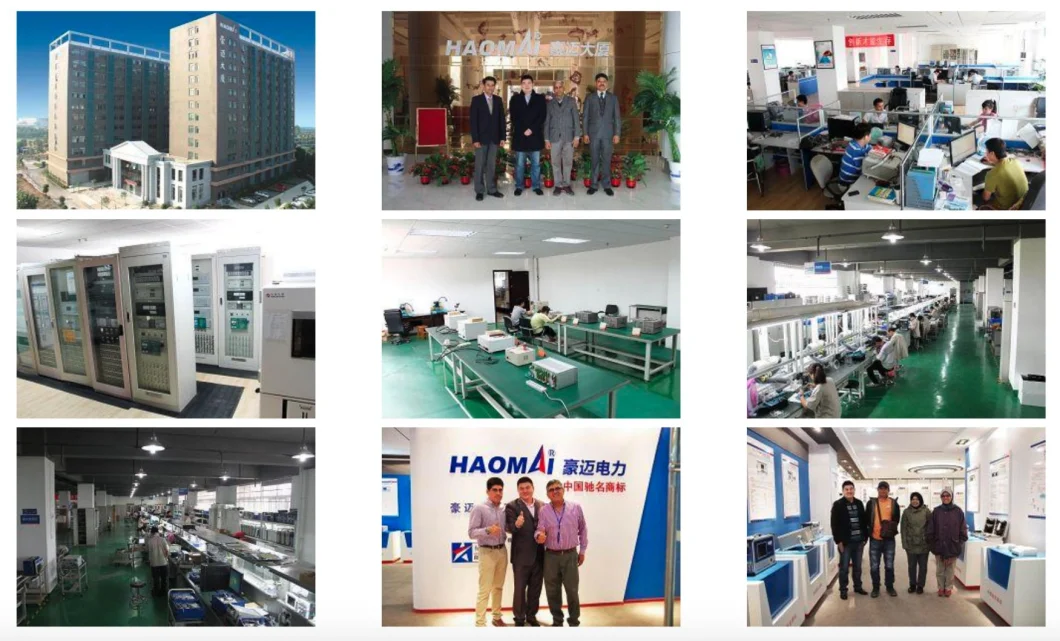 HAOMAI ELECTRIC POWER AUTOMATION is established in 1999 and located in Wuhan of China, which is specialized in developing and manufacturing electrical power test and measurement instruments. HAOMAI products are widely used in power grid, petrochemical, metallurgy, railway, coal mine, research institutes and all kinds of large-scale factories or enterprises.mainly focuses on the sales and services of Protection Relay Test System, CT/PT Analyzer, Battery Load Tester, Transformer Testing Equipment, Circuit Breaker Analyzer, Partial Discharge Detector etc. electrical power test and measurement instruments.

HAOMAI follows total quality criteria, and always maintains standardized process and procedures for continuous growth. HAOMAI has been certified by ISO 9001:2015, ISO 14001:2015 and OHSAS 18001:2007.

HAOMAI builds own RELAYSTAR laboratory and performance test laboratory, and possesses professional production equipment and testing instruments in factory, such as Agilent 34401A 6 1/2 High-precision Meter, FLUKE Multi-meter, EMH Standard Meter, CLOU Standard Power Source, Oscilloscope, Phase Meter, Insulation Test System, High Voltage Dividers, AC High Voltage Generator, Time Calibration Tester, Standard Micro-resistance etc.

HAOMAI is China well-known mark recognized and approved by State Administration for Industry & Commerce of People's Republic of China, and enjoys high reputation in domestic and foreign markets.

HAOMAI now is the key supplier for SGCC(State Grid Corporation of China) and CSG(China Southern Power Grid). Till 2018 HAOMAI products have been sold to 34 different countries.

HAOMAI always sticks to the faith of "cooperation and sharing", takes the "technology and market" as the direction, "creation and innovation" as the soul, listens to clients carefully, and improves the technology, upgrades the products, optimizes the service and tries all to be the global leader in electrical power test and measurement instruments field.