Current transformer polarity test apparatus Automatic CT PT tester Current Transformer CT analyzer ct tester analysis
I. Introduction
The tester is a new generation of current and voltage transformer testing instruments developed by our factory, it is produced after widely listening to users' opinions and a large number of market research and in-depth theoretical research. The device is manufactured by process of high performance DSP and ARM, it has the advantage of advanced design, stable and reliable product performance, complete functions, high automation and good testing efficiency, it is used for professional testing instrument transformer in electric power industry.

II. Main technical features
Very comprehensive functions, it can meet the various types of CT (such as:
protection, measurement and TP) excitation characteristic (Volt ampere characteristic) such as Ratio, polarity, winding resistance, secondary load,ratio difference and angle difference testing, and it can be used for various electromagnetic excitation properties, PT ratio,polarity,winding resistance,ratio difference and angle difference testing etc..
Automatically gives the knee point voltage / current, 10% (5%) error curve,
accuracy limit factor (ALF), meter's safety coefficient (FS), secondary time constant (Ts) and remanence coefficient (Kr), CT/PT saturated and unsaturated inductance parameters.
To meet the standards of GB1208(IEC60044-1), GB16847 (IEC60044-6),
GB1207 and other types of transformer standard, and it is in accordance with the transformer type and level automatic choice of the standard test.
This principle based on advanced low frequency testing, it can test CT kenn
point up to 45KV.
Very friendly and beautiful interface, full Chinese/English graphical interface.
6.This device can save 2000 groups of datas,never power failure. After testing,
U disk is stored in PC, and data analysis can be used by the software and WORD report is generated.
7.Easy to test, a key to complete measuring CT resistance, excitation, ratio
and polarity, except for load test, other CT test items are same connection mode.
8. It is easy to carry, weight < 9Kg.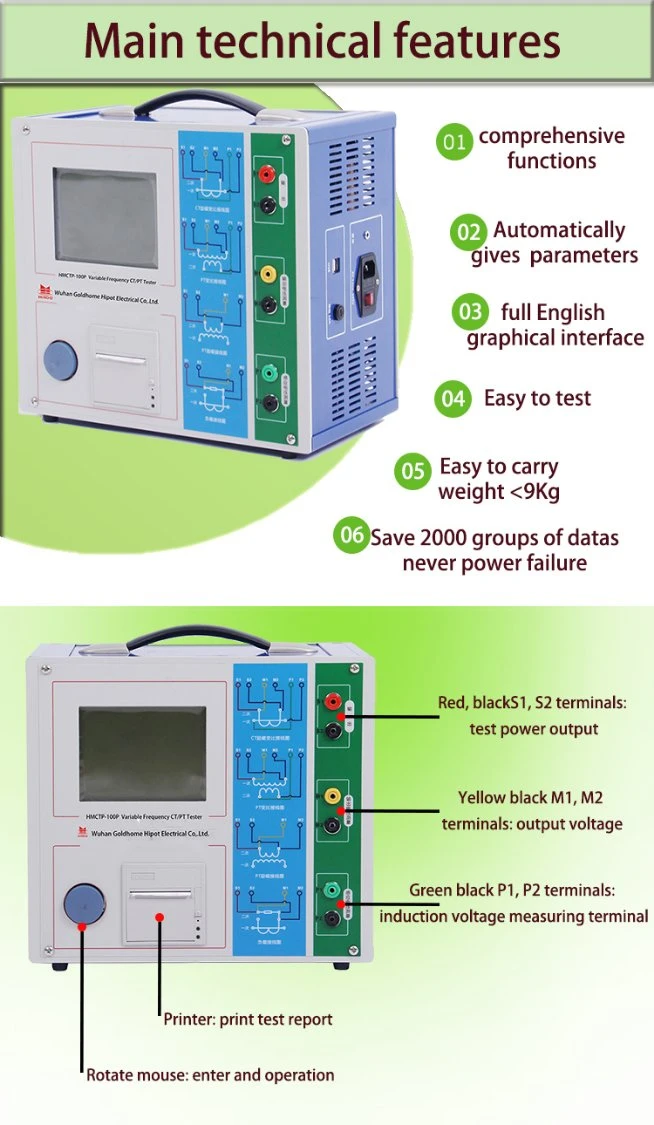 III. Technical parameter
Variable Frequency CT/PT Tester

Application

C

T and

PT

proteciton

Output

0~180Vrms,12Arms,36A(

Peak

)

Voltage Measuring Accuracy

±0.2%

CT

Ratio

Range

1~30000

Accuracy

±0.2%

PT

Ratio

Range

1~10000

Accuracy

±0.2%

Phase

Accuracy

±5min

Resolution

0.5min

Seconday winding




resistance

Range

0~300Ω

Accuracy

2%±2mΩ

AC load measurement

Range

0~300VA

Accuracy

2%±0.2VA

Power supply

AC220V±10%,50Hz

Envirement

Temperature

:-10

ο

C~50

ο

C,

Humidity

:≤90%

Size/weight

Size

33cm x 29.4cm x 18cm

Weight

<9kg
IV. Factory release test photo